A billion years ago, my bestie Linde started a facebook group at Wesleyan called "I HEART BENNY." At that point, during my freshman year, I didn't know her that well, but I came across this group and was just like, "wow who is this genius. This group is so necessary."
For all of you who don't know who BENNY is: Watch.
The Sandlot. He was the dreamy, knowledgeable and ridiculously talented young baseballer in a movie filled with doofy little kids with big dreams. And he was a "man" of color.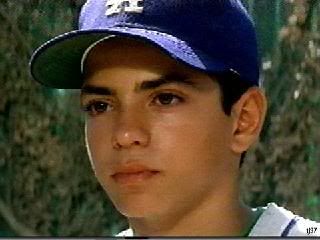 BENNY "The Jet" RODRIGUEZ, mmm he was IT. I don't know how many young women and men I've bonded with over the years over our mutual love for homeboy when we were kids. And I felt a kindred link with Linde when encountering this facebook group. Also to each and every wunderkind that joined the group.
Benny was played by Mike Vitar, but in our hearts and souls, he's always BENNY. Even when he was in D2: The Mighty Ducks, as the hockey player who couldn't figure out how to stop skating once he started, he was always just BENNY. He was the type of dude, that you would look at and be like, "damn. That kid is gonna grow up GOOD." He was the type of dude that when you see the movies on TV now, that you're awkwardly and ashamedly drawn to… (yikes. Poss too much info). But where'd he go? And most importantly…
HOW DID HE TURN OUT???
Mike Vitar is now a firefighter… fighting fires, sexy. But Mike Vitar is clearly no longer BENNY. His face looks totally different! Who IS that?!